Consumers are urged to visit www.TheLocksmithPolice.com to learn more about the nationwide epidemic of locksmith scammers.
Media and legal inquiries are invited to call 800-313-5397. Click HERE for PRESS RELEASES!
Locksmith Charley



Charles Eastwood, CRL
For complete 24 hour mobile service please call 602-717-5397 (KEYS)
You may also call toll-free 1-888-717-KEYS (5397)
Work orders may also be sent in by FAX to 1-509-278-1751.*
Work orders may also be sent in by E-mail to: Orders@LocksmithCharley.com
Work orders sent by e-mail will be received on cell phone within minutes of placement. Please include telephone numbers for confirmation call as well as the address where the work needs to be done, the nature of the work to be done, and if it involves a vehicle the Year, Make, and Model of the vehicle involved.
SPAMMERS and SCAMMERS sending nonsense spam or scam e-mails to my "ORDERS" e-mail address will be dealt with harshly.
*This fax number and e-mail address is for customers only and not for unsolicited advertisements (see below).
There is a "LOCKSMITH ONLY" website out there where we share ideas, experiences, technical information, etc.
I found this little article on there awhile back...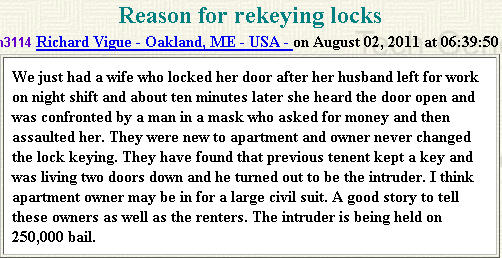 Rental property owners and new homeowners and tenants, let this be a lesson for y'all!
I am not going to hold myself out as the absolute best locksmith in the world, Phoenix, or even my neighborhood.
Indeed none of us are perfect. But I do hold myself to a high degree of professionalism, integrity and HONOR*.
That means that I will quote people prices that I believe are fair and that 99% of the time I end up writing the bill for what I quote. Just like going to the doctor, there are times when "Complications set in" and in those situations I ALWAYS inform the customer of what is going on and re-quote the project.
We are able to perform a wide variety of services including:
Residential: re-keying, lock repairs, strike adjustments, installation of locks and deadbolts, opening of houses when locked out.

Do you have or are thinking about getting "burglar bars"? IMPORTANT NOTES ABOUT BURGLAR BARS: see FIRE SAFETY - CLICK HERE
I am able to get very creative, usually to your benefit. If you have locks on the gates to your yard I can MASTER-KEY one or more of them so that I can give you a key that you can give to the pool guy or the gardener that will just open the gates to the yard while, at the same time, making your house key work the gates. That would mean the pool guy can get into the yard to service the pool, but not into the house. Or similarly for a situation where you may have a maid come in once a week, we can make a "maid key" and key one doorknob to work with that key and your house key. Then on "maid day" you leave the deadbolt on that door unlocked and the maid can come and go. The rest of the time you can have lock the deadbolt on the special door and the maid can't gain access because the "maid key" can only operate the door knob.
If you are concerned about intruders picking their way into your home or utilizing "bump keys" that have been in the media lately I can provide you with HIGH SECURITY locks for your residence. My personal favorite is ASSA and I have the exclusive rights to distribute a specific ASSA key profile within the state of Arizona. If you get an ASSA system from me, no one else in Arizona can duplicate those keys legally. CLICK HERE for more information on HIGH SECURITY locks.
ATTN NEW HOME OWNERS - who has the MASTER KEY to YOUR house?
If you have just purchased a new home it is important for you to have your house re-keyed. There is likely a MASTER KEY out there that opens your home. The Builders don't always tell you about the BUILDER'S KEY and the resulting BUILDER'S MASTER KEY and the fact that instead of just 1 key working in your locks it is likely that up to 32 different keys will work in your locks. For more information see: http://www.locksmithcharley.com/builderkey.html
REAL ESTATE - REO SERVICES
During the trying economic times of the past several years I have been called upon by several different real estate brokers to assist them with various tasks involved in the REO arena.
The tasks that I am intimately familiar with and capable of helping you provide service to your clients include:
Occupancy Check

| | |
| --- | --- |
| Unoccupied: | Gain entry, re-key locks, secure garage doors (if any) with padlocks, install contractor / broker lock boxes as desired. Post notices conspicuously front and rear |
| Occupied: | Engineer contact with occupants and start discussions on vacating the premises, including Cash-For-Keys negotiations if needed or desired. |

Document Status
Photograph multiple views of exterior of the property, photograph multiple views of each room on the interior, take measurements of all rooms, document and report any damages or other conditions that would constitute a deviation from normal. Document and report status of utilities. Renaming photographs so as to identify rooms and entering all documents into the computer and producing a single report in the form of a PDF file. A separate file of photos can be made available as well.
CFK
Engage in discussions with occupants as to amicable departure plans and engage in Cash For Keys negotiations. Execute CFK documents and tender payment to occupants as long as the premises is in an acceptable condition of cleanliness.
Trash-out / Storage

| | |
| --- | --- |
| Personal property: | All property having apparent value and undamaged furniture is to be carefully packaged and removed to a storage facility as designated by the broker, agent, or designated property manager |
| Obvious trash & garbage: | Eliminate all trash, food, clothing, human / animal waste, broken furniture, etc. to render premises into a "broom clean" condition, Transport trash and garbage away from the premises and legally dispose of trash and garbage at a waste disposal facility. |
| Ongoing reporting | document and report any instances of damages or work necessary to return property to saleable condition especially any "new" damages that may have occurred since the occupancy check or the CFK negotiation / transaction. Especially important are water leaks and any indication that copper thieves have been targeting a premises for electrical wiring or plumbing piping or plumbing fixtures. Anything appearing to be criminal damage should be reported to the police immediately. |

Board-up
Sometimes it is necessary or desirable to board up windows and / or doors. I am ready, willing, and able to provide reasonable quotes for materials and labor to effect the completion of these board-up tasks in accordance with the HUD requirements that define type of lumber, thickness, fastener sizes, etc. **
** In the past I have been instructed by certain brokers to board up properties using materials and fasteners that would not comply with the HUD requirements for securing a vacant property and I simply will not permit any sub-standard work to be performed on my jobs simply because I am given an unrealistically low budget.
Sale Clean
Perform all cleaning activities necessary to render the premises into a sale ready condition including "spic-n-span" the kitchens and bathrooms, vacuum clean carpets, shampoo dirty carpets as necessary, perform dusting in all areas, replace batteries in smoke / CO2 detectors, clean and check operation of all appliances (as much as utilities allow), furnace, air-conditioner, ensure that the garage is in a clean condition.
Premises Maintenance
(landscaping)
Schedule an initial cleanup of landscape and grounds together with a designated follow-up schedule for maintaining the lawns, foliage, fencing, and outbuildings in a secure and orderly fashion.
I understand that some brokers prefer to do some of these tasks personally and have personal preferences as to how various of these tasks are to be performed. I am completely capable of managing each broker's projects in a manner consistent with their preferences. I am usually able to negotiate a flat rate for most routine services (occupancy check, re-keys, photos, etc). Obviously trash-outs, sale-cleans, and initial landscaping would necessarily be individually quoted.
I have several associates and contacts capable of performing these tasks and have a privately owned U-Haul truck at my disposal for any moving and storage or trash-out operations as well as a generator, wires, and lighting that will enable my staff and I to conduct these operations regardless of utility status. The only caveat is that we may have to negotiate with a close by neighbor to acquire running water if necessary for clean-up operations. .
Commercial: re-keying, master-keying*, lock repairs, strike adjustments, installation of locks and deadbolts, opening of businesses when locked out. I also design and install access control systems including electric strikes, magnetic locks, electronic key-pads, card readers, CCTV systems and more.
One little example of my work - retrofit of a malfunctioning lock with a Simplex / Unican 7014 mechanical combination lock http://locksmithcharley.com/ssunican.html

I also have access to HIGH SECURITY locks for your business - CLICK HERE for more information on HIGH SECURITY locks.
*If you are interested in the subject of keys stamped "do not duplicate" and information on the thoughts of someone involved in institutional locksmithing you might want to read a personal position paper by Don O'Shall called:
"Do Not Duplicate" and the Institutional Locksmith (Microsoft Word format) (PDF format)
RESIDENTIAL / REAL ESTATE / COMMERCIAL QUOTES
I frequently get calls from customers wanting me to give them an "EXACT" quote to re-key their home or business.
This is frequently very difficult to impossible to do because much of the time the caller is in a big hurry for a quick answer OR
the customer may not be at the premises they want a quote about so they are unable to look at the locks and give me specific answers to my specific questions.

Question: How much is it to re-key a house?
Answer: MOBILE SERVICE FEE* + (Quantity of KEYHOLES or CYLINDERS X per cylinder cost) + keys + tax = Total Re Keying Cost.
A doorknob or lever handle may have
ZERO keyholes (passage or privacy function)
ONE keyhole (keyed entry or storeroom function)
TWO keyholes (usually commercial / industrial functions)
A deadbolt will be either:
(1) a single cylinder with ONE keyhole outside and a thumb-turn on the inside
(2) a double cylinder with TWO keyholes, one inside and one outside.
Therefore a door with a knob or lever and a deadbolt may have 1, 2, 3, or 4 keyholes on that door.
If someone has installed more locks on the door the number of keyholes is unpredictable.
For most common residential and commercial (not high security) lock services my charges are as follows:
| | | |
| --- | --- | --- |
| Item | Cost | Description |
| RK (re-key) | $12.50 / cylinder | Re-key cylinder with an existing working key present. |
| RKWO (re-key w/o key) | $17.50 / cylinder | Re-key cylinder with no existing working key or control key present. |
| OPEN | $20.00 / lock | Open Locked door to gain access. |
| RE-INSTALL | $20.00 / lock | Remove old lock and install new lock on previously prepared door. (Customer provided hardware or extra charge for locksmith provided hardware) |
| KEYS | $ 2.50 / key | Most common keys, KW1, KW10, SC1, SC4, Weiser, Weslock, Dexter, Master, Defiant, Brinks, etc. |
*MOBILE SERVICE FEE - This fee varies depending on a variety of conditions. Minimum is $55.00. If you need help after hours or at some extended distance my specific mobile service fee can be quoted on the phone at that time. Outside the 101 loop is a minimum of $10.00 more with the exception of the Tempe / Mesa area where I am presently living.
ABOUT UN-REALISTICALLY LOW SERVICE FEES
Please note that advertisements for unrealistically low service fees such as $14.00, $15.00, $19.00, etc are typically published by the CRIMINAL SCAMMERS that are masquerading as locksmiths and defrauding consumers many times daily throughout our nation.

If you think about it you will realize that anyone operating a $10,000-$20,000 service vehicle consuming $3.50+/gallon gasoline, carrying literally thousands of dollars of equipment and inventory being willing to spend at least 1/2 hour driving to your location do those really low prices have any chance of being realistic? Absolutely NOT! Its called "BAIT AND SWITCH" and is illegal everywhere in our great nation.
PHOTOS BELOW ARE OF SCAMMER ADS ON BING.
SHAME ON BING! 2013-08/07



What do they have in common? UnRealistic low prices, UnRealistic Fast response promise, and slick websites with no "exact local street address" and
no names of individual owners and technicians, most wanting you to either call a toll-free (call center) phone number or fill out a form.
The 5 star one has an address in NYC associated with Eran Varnai, CPA Janus Associates Inc, 144-42 Jewel Avenue, Flushing, NY 11367, Phone: 718-577-9197
BELOW BING LISTS BOGUS LOCATIONS SCAMMERS USE IN THEIR ADS.
SHAME ON BING! 2013-08/07
Today's Challenge!
Call any of these places and ask if there is a locksmith there.

Probation Compliance Inc (602) 523-9800
132 S Central Ave Phoenix, AZ 85004

Subway - 602-716-9880
530 E McDowell Rd Phoenix, AZ 85004

Cocina Economica La 1550 N 16th St Phoenix, AZ 85006
(602) 817-1111 (I've eaten there - no locksmith)

Alcock & Associates DUI Laywer, Car Accident & Personal Injury Lawyer
2 N Central Ave, Phoenix, AZ 85004 (602) 404-6000
http://www.alcocklaw.com

Address Verified -

Address is vacant (AS16).

per Melissadata.com
*
Automotive: opening, making first key when all keys are lost, re-keying to a new key. I also have the GM VATS keys as well as TRANSPONDER keys for many vehicles.
Please click here to get more information on TRANSPONDER KEYS.
Lots of new information - updated July, 2013!
If you have a transponder vehicle it is ESSENTIAL to have spare keys on hand
TO AVOID A VERY EXPENSIVE problem should your key be lost or stolen or broken
TODAY'S CHALLENGE: Call the dealer and ask how much for an extra key or replacement key.
Then call me and ask me the same thing.
BETCHA I charge less than the dealer and you won't have to tow the car to me either!
NOTES ABOUT AUTOMOTIVE SERVICE QUOTES
Often times I can give accurate automotive quotes "off the top of my head".
Sometimes I must consult with my books or computer to arrive at a realistic quote.
If the customer calls while I'm on a job or driving I may have to call back with a firm realistic quote.
Usually when it is a quote for automotive work I give a simple flat rate that includes my mobile service fee (as described above)

More than 90% of the time I don't charge anything differently from what I quote.
Sometimes if the job is just a lot more simple than I thought I will charge less.
I usually let a smaller than expected charge be a surprise to the customer when the job is done.

Occasionally I will discover that the situation is not what I was told that it was or that for some other reason the end result of the charges will be above my original quote. I always tell customers immediately upon my discovery that things simply are not as expected and give them a firm re-quoted price.

Sometimes it will depend upon the nature of the call and the time of the day. For many vehicles I can call in and get a key code (and a PIN# if needed) during daytime hours. Some (notably Chrysler products) are available 24/7 by internet. With some code providers there is an after hours fee to obtain key codes.
If lost keys occur after hours & the vehicle involved is one that I can't get codes for after-hours I may have to make keys the old fashioned way, a lot of work disassembling the car door, steering column, or dashboard. Some transponder equipped cars will also require further disassembly to locate and remove the immobilizer unit, engine control unit, or both for "flashing" of the part's memory.
I will always let you, the customer, know up-front how much you'll be paying and I won't start working unless and until you accept my fees. I am not out here to rip anyone off, but driving a mobile shop around that is equipped with a lot of expensive tools and a good supply of parts is not an inexpensive proposition.
*I shot that photo of the convertible while driving my car on a freeway in San Diego while going around a curve. I really wanted a front-view shot, but I couldn't quite pull that off.
Safes: I am trained and experienced to provide routine safe service, combination changing, and penetration of locked up containers. We have a few samples in stock and are able to get many other models same day if necessary and we are able to custom order any safe you may wish to purchase. We can also do safe moving and bolting down to the floor if you should require those services.
If you have a safe and are having intermittent trouble opening it DO NOT LOCK IT - call 602-717-5397 for service instead. It is considerably less expensive to repair an OPEN malfunctioning safe than it is to penetrate a locked up container by drilling!
I recommend that you have your safe lock serviced (includes cleaning, inspection, and lubrication) at least once each year. If your safe is used in a business where it is opened multiple times daily then you should have routine safe service every 6 months. Mobile service to your location for routine safe servicing is as low as $125.00 (one lock on one door). Each additional lock or door is only $35.00 additional.
SAFE OPENINGS: Opening of locked up containers can be accomplished by a variety of means. Sometime on mechanical locks "dialing diagnostics" will reveal problems that can sometimes be compensated for and the safe may be dialed open. The application of a machine called an Auto-Dialer can be done as well. The Auto-Dialer process can take up to 24 hours to complete. Penetration by drilling may be the most expedient means of opening a safe. If you have a safe with an electronic lock that is malfunctioning and changing batteries and sometimes substituting a different keypad doesn't work then drilling is the only reasonable solution. If you have a locked up safe please have as much information as possible when calling. The name of the manufacturer of the safe, any ID on the dial or keypad as to the manufacturer of the lock, the safe's serial number (usually on a white sticker near the floor on the front or one of the sides) will all be information helpful to provide you with an accurate and reasonable quote. If you need immediate help with a safe opening, please contact my by phone or e-mail below:
For complete 24 hour mobile service please call 602-717-5397 (KEYS) or 1-888-717-KEYS (5397)
Work orders may also be sent in by E-mail to: Orders@LocksmithCharley.com
Work orders sent by e-mail will be received on cell phone within minutes of placement. Please include telephone numbers for confirmation call as well as the address where the work needs to be done, the nature of the work to be done, and if it involves a vehicle the Year, Make, and Model of the vehicle involved.
SPAMMERS and SCAMMERS sending nonsense spam or scam e-mails to my "ORDERS" e-mail address will be dealt with harshly.

I am always interested in purchasing any used safes - open or locked up is OK

SAFE RATINGS CHART STAR / AMSEC SAFES
Click HERE for more information on available SAFES, RATINGS, DIALING PROCEDURES, etc.


When ordering locks or parts it is frequently necessary to know what finish (color) your hardware is.
Below is a picture showing the most commonly available architectural colors. Sorry not the best photo.
I put this board of color disks together in about 1989 or 1990 and still have it today.
Other shop activities - dancing with dogs... Well, when I HAD a shop
Unfortunately, Roz's dog Romeo got old and died of natural causes.
You may e-mail me at charley@locksmithcharley.com

We proudly accept:

We now accept Visa, Master Card, American Express
If you would like to contact me ONLINE you can try Yahoo: Yegg57 or ICQ: 9407078

Locksmith Charley CARES!
PUBLIC SERVICE ANNOUNCEMENTS:
1. Residential FIRE SAFETY vs. Burglar Bars - a MUST READ PAGE CLICK HERE (Locksmith Charley doesn't want to have any ROASTED CUSTOMERS (or NON-customers for that matter)!
While on the subject of Burglar Bars, I have some interesting information to share on the subject of Security gates...
LESLIE LOCKE company manufacturers certain "Security Doors" or "Security Gates" and mass markets them through Home Depot, and others using what I consider to be extremely deceptive advertising that lures consumers into a false sense of security. Feel free to view the VIDEO CLIP and click on LESLIE LOCKE GATES for the whole story...
2. SECURE YOUR COMPUTER!
Your personal (or business) computer MAY be being attacked at this very moment and you may not even be aware of it - until its too late. Please review the information at www.keyfinders.net/security/secure.htm and protect yourself!

3. Fire Safes vs. Burglary Safes - RATINGS CHART
"Are you putting valuable property into a suitable container?"

If you are going to store money, jewelry, guns, or other valuable items it is advisable to secure them in a suitably rated BURGLARY container.
If you have important documents such as stock certificates, mortgages, etc. they need to be stored in a FIRE container.
To give your important documents full protection it is advisable to store the fire container within the burglary container to protect it from theft. There do exist containers which are a composite or combination fire/burglary safe but they are considerably more expensive than either of their counterparts.
4. GOOD LOCAL BUSINESSES: - these are companies in the area that I have had dealings with and have had very good results.
SUN CELLULAR INC - email - 2813 E. McDowell Rd., Phoenix 602-267-7800 - The nice folks at SUN CELLULAR don't sell any phones or airtime but they do programming and repairs on cell phones from any manufacturer except Samsung and Sanyo.

SHAMROCK TOWING - 602-257-1665 - When the service truck tire blew out and the spare failed the nice driver from Shamrock came and rescued me and even though it was late on a Saturday night they didn't "rape" me financially.

VON HANSON'S MEAT MARKET - If you really love meat this is the place to go - from hamburger to brats to steaks they have it all. They help you in a most professional manner, are very friendly, and usually will pamper you with some free samples. They're in Chandler at 2390 North Alma School Road and their phone number is: 480-917-2525

A. L.& S. Security - Call Gordon at 602-278-4582 For all of your burglar alarm and security system needs. They give you excellent rates for residential or commercial accounts unlike some of the other alarm companies around. They also don't lock you into some obnoxious contract because they feel that their customers will appreciate their rates and service enough to stick around. The other companies apparently feel that if they don't lock you into a contract that they will certainly quickly lose their customers.

Johnston's Auto at 3445 N. 24th St., Phoenix (602-381-0448) It looks like Johnston's is going to be my "GO-TO" mechanic! After john's family car care couldn't get the my U-haul truck to pass emissions 4 times Johnston's got it done right the first time! No Muss, No fuss. They also found a defective sensor in my Girlfriend's car that the Ford dealership was unable to correct. The sensor controlled the engine cooling fan and caused the car to overheat and die repeatedly.

Plumbing by Jeremy - 480-695-6416 - Jeremy was sent to me by the home warranty company to take care of an immediate need problem at my little apartment building. He took care of the problem "quick fast in a hurry"! He also told me that he services the entire valley so call Jeremy when you have a plumbing problem.

Mike's Workshop - 623-247-4870 - for appliance repair. I called out one unmentionable company to find and fix a noise in the "new" used refrigerator I brought home. The first guy took our money and said "since its not making any noise NOW...." and "I'll be back tomorrow..." well tomorrow never came etc. ad. nauseum. I finally called Mike's and they sent a technician out who QUICKLY determined that the (unused) icemaker was faulty and making noise so we simply had him remove it for us. Definitely a GREAT company to deal with!
5. LOCKSMITH SCAMS
THIS LINK TO MY REPORT ON LOCKSMITH SCAMS will hopefully give you, the educated consumer, some insight into what some unscrupulous SCAMMERS are doing to fool the public into calling them and then ripping them off afterwards. The ABC NEWS VIDEO tells a lot of the story.

(9/24/2010 Update) I have changed the previous link to go to another website I've authored, "TheLocksmithPolice.com" that contains a comprehensive description of all of the activities of the locksmith scammers as well as access to all of the legal documents that I've filed to date, a BBB report about Run-Local-Locksmith (HQ=Center Line Michigan), a Detroit TV news story on Run-Local, a letter from MCI to the FCC stating that because of my complaint they have disconnected over 200 Phoenix area Scammer numbers, and much more.
The old scammer page is here: http://locksmithcharley.com/SCAMS/SCAMS.html
SERVICE AREA AND AVAILABILITY
Despite the closure of the shop location, I am dedicated to providing the excellent professional locksmith service that I have provided the Phoenix metro area for years. I will be based out of my home near Country Club Dr and Broadway in Mesa AZ.
When people inquire, I typically try to make it sound like a joke, saying: "I Try to limit my area a little.... I try to stay between Anthem & Maricopa & Apache Junction and Buckeye..." So, Realistically I happily go driving around the valley to places like: Phoenix, Glendale, Peoria, Goodyear, Avondale, Tolleson, Litchfield Park, Surprise, Sun City, Youngtown, Laveen, Scottsdale, Paradise Valley, Fountain Hills, Tempe, Chandler, Awahatukee, Gilbert, Guadalupe, Queen Creek, Maricopa, Anthem, New River, Lake Pleasant, Apache Junction.
Mobile service rates start at $55.00 during "normal working hours" which are 10am to 6pm Monday to Saturday.
Rates outside "normal hours" are at the discretion of the on-call technician depending on time of day, holiday status, and type of job.
I am typically available evenings and weekends for emergency services.
When it gets extremely hot in the day time I often prefer to perform automotive services that require extensive disassembly after the sun goes down.

Locksmith Charley's is now almost exclusively a mobile service.
Several years ago I gave up on maintaining my shop. It was too hard to find good help that wanted to work and so mostly I was (and still am) a "one man show", although I do have some other friends I can call to cover calls for me when I'm on the wrong side of town or otherwise unavailable. Due to the nature of the business, for most companies the shop is a "central meeting point" and "storage facility". The majority of income from a locksmith business comes from mobile service calls. Most people immediately jump to the conclusion of a car lockout scenario. Lockouts occur, but are less frequent than residential re-keying, commercial re-keying & master keying, extracting broken keys, lock repairs and replacements, installing of additional locks, and more frequently these days installation and maintenance of access control systems and video surveillance systems. If someone has something simple that they want me to work on or are down to their last car key and want to save a service call charge by coming to my residence to get another key programmed into a car I will sometimes have the customer come to my residence or let them come to wherever I might be working at that moment to accommodate them.
Thanks for visiting my web page and have a GREAT DAY!
Charles "Locksmith Charley" Eastwood, CRL
I have been serving the greater Phoenix metro area since 2001.

PLEASE CLICK ON THE LINK BELOW TO SAVE THE LIVES OF INNOCENT INFANTS AND CHILDREN!
PLEASE CLICK HERE FOR AN URGENT MESSAGE FROM LOCKSMITH CHARLEY TO THE PUBLIC
©opyright 2000-2013 Locksmith ©harley all rights reserved
CA B&P §6980.64 COMPLIANCE
Phone# 800-313-5397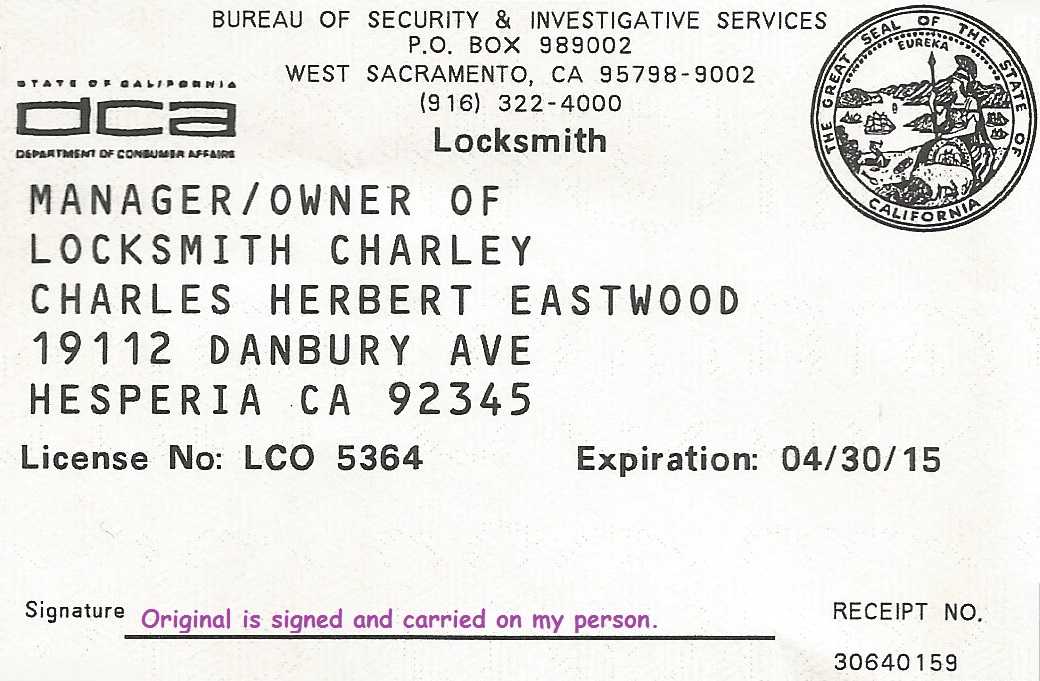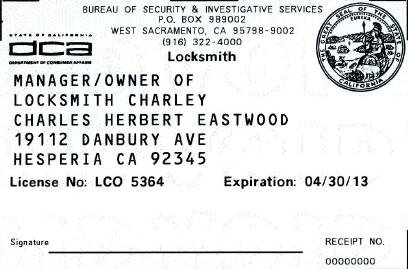 * anyone sending JUNK FAX unsolicited advertisements to this fax number is in violation of 47 CFR 64, et. seq. and will be prosecuted to the fullest extent of state and federal laws.

*"honor" - if any of you are interested.... on 8/28/2010, Glenn Beck created an event at the Lincoln Memorial that drew an audience approximating 1/2 million people. This event was called "Restoring Honor". It was, to me at least, a very moving event. Among many other things, Beck talked about heros. He said something like "Heros are ordinary people who do the right thing, often at their own peril..."

It was partially this speech that inspired me to get off of my ass and complete my mission.
9/21/2010
On Tuesday (9/21/2010) LOCKSMITH CHARLEY filed suit against 11 companies of "locksmith scammers", several telephone companies supporting their activities, Google, Yahoo, and the Arizona Attorney General Terry Goddard. A hearing has been set for October 4th at 9:30AM. Judge Mangum has ordered the defendants to appear and show good cause why he should not issue a preliminary injunction to shut off at least 450 telephone numbers belonging to the 11 different companies. Consumers are urged to visit www.TheLocksmithPolice.com to learn more about the nationwide epidemic of locksmith scammers. Media and legal inquiries are invited to call 800-313-5397.
6/28/2012
On June 28, 2010, after 3 more hearings on my Order to Show Cause (notably CincoDeMayo and "D-DAY), Judge Mangum has ruled in this matter and has ordered a preliminary injunction prohibiting the appearing defendants (ATLAS, MILLER, MILLENNIUM, COMPLETE, and TRUST) from using any false addresses, that is to say, an address where they do not have a physical presence. The entire ruling may be read at:
http://thelocksmithpolice.com/exhibits/Legal Documents/PreliminaryInjunction-ISSUED-2011-06-30.pdf
If you are a consumer or a locksmith that has been following this issue you know what a huge victory this is!

11/21/2012
On November 21, 2012 the Arizona Court of Appeals heard oral arguments based on the appeal of several of the defendants of the preliminary injunction issued by the Superior Court.
1/31/2013
In November 2012 DEX delivered an East Valley Yellow Page directory to my residence. Under Locks & Locksmiths there were about 237 one line listings. Over 200 of those listings specified addresses that either (a) didn't exist or (b) existed but belonged to someone else, i.e. no locksmith there.
The overwhelming majority of the telephone numbers involved were facilitated by MCI and their resellers. In their letter dated 1/31/2013 MCI informed the FCC that due to my complaint MCI and/or their resellers disconnected "more than 200" telephone numbers of locksmith scammers in the Phoenix market.
The 200+ disconnected telephone numbers represent over 80% of the 237 one-line locksmith listings in the book we analyzed.
2/21/2013

3 month anniversary of AZ Court of Appeals hearing - no results. 2/28/2013 will represent 8 months of inactivity since our injunction was issued.
JUSTICE DELAYED = JUSTICE DENIED.
Our Business Reviews at 2findLocal.com