Locksmith Charley's TRANSPONDER and VATS information page
This revision of my transponder information page now also includes listings for vehicles using the VATS (Vehicle Anti Theft System) installed in many General Motors vehicles. Information on the VATS system is located farther down the page. I have included this information mostly for personal reference but I also feel that people should be able to be informed about their vehicles.
TRANSPONDERS
There are many different kinds of transponders and the various automobile manufacturers have implemented their systems in different ways.
On this page I will give a general overview of how a transponder system works followed by specific information for various makes and models of cars.
The transponder is a tiny coded radio transmitter that is embedded into the plastic head of the key. Not all plastic headed keys have transponders though. An example of the type of transponder that Ford puts in its keys looks like this:
Glass Chip found in some
Ford Vehicles
Glass Chip in
White carrier
Complete H72-PT key showing placement
of white carrier and glass chip
New "G" chip for Toyota Cars
Transponder Chip #41 - Nissan / Infiniti
When the key is placed into the ignition of the car and rotated to the start position the on board computer in the car sends a signal to the key via an antenna near the lock cylinder. The key then sends back the transponder code programmed into that key. If the car has been programmed for that transponder code then the computer will permit the car to start, otherwise the computer will disable the car. (I tell people that "it makes the car play Nancy Regan and Just say 'NO, I ain't gonna go!'")
Some vehicles are made in such a fashion that "on-board" programming of a new key into the car is possible if all keys are lost. Other vehicles need to be connected to special equipment that the dealer or locksmith has in order to program a "first" key into the system.
As you can see I have superseded the information from the paragraph below. I have left it here so that you can watch as the state of the art in locksmithing changes. I have recently upgraded my machine that will permit me to "flash" or re-program the ECM computers for Toyota and Lexus automobiles so now I am also able to flash Toyota, Lexus, Acura, and Honda immobilizer boxes as well.

Now if you lose all of your keys or have only a valet key available for only $150.00 I can render your ECM back to its original state ready to accept new transponder keys. This service is available in my shop in Phoenix AZ and mail-in service is available.
If you wish to bring in to my shop or ship your ECM to me, print out the form at
http://www.locksmithcharley.com/toyotarelease.doc (Microsoft Word) or
http://www.locksmithcharley.com/toyotarelease.pdf (Adobe Acrobat reader required)
and send the ECM and the completed form to:
Locksmith Charley 730 S. Country Club Dr., #93, Mesa AZ 85210.
The instructions for programming your keys into the flashed ECM may be found in the document at:
http://www.locksmithcharley.com/toyotapostflash.doc (Microsoft Word)
or http://www.locksmithcharley.com/toyotapostflash.pdf (Adobe Acrobat reader required)

This service can save you $1000.00 or more versus the cost of a new ECM computer from the dealer!
After the ECM is flashed (for an additional charge - in the Phoenix metro area only) I can arrange to have a locksmith come to your vehicle, fit keys to it, and get you back on the road the same day (or night!).
Still other vehicles notably the Toyota and Lexus brands are made in such a manner so that if all keys are lost you must replace the entire Electronic Control Module (computer). For that reason if you have a Toyota or Lexus it is ESSENTIAL that you make sure to have extra keys on hand. The transponder reference book I have says the the Electronic Control Module costs about $1400.00 wholesale and can be as much as $2500.00 retail.
If you have a master key already there are 2 different programming methods depending on the year and model.
On-Board programming "E" instructions are at:
http://www.locksmithcharley.com/toyota-obp-e-instructions.doc (Microsoft Word) or
http://www.locksmithcharley.com/toyota-obp-e-instructions.pdf (Adobe Acrobat reader required)
On-Board programming "I" instructions are at:
http://www.locksmithcharley.com/toyota-obp-i-instructions.doc (Microsoft Word) or
http://www.locksmithcharley.com/toyota-obp-i-instructions.pdf (Adobe Acrobat reader required)
The chart that I use to determine how to flash a vehicle's computer was provided to me by the vendor of the machine that I use to flash the computers. That chart can be seen by clicking on: http://locksmithcharley.com/flash_info.pdf
I had a customer come to my shop the other day and that chart told me that I needed to flash her computer with the
"32 bit" file. Well I did that and the keys would not program into the car. After repeating that cycle a couple times, I contacted the technical support department of the company that provided my equipment. They informed me that Toyota / Lexus during certain years were "inconsistent" and that if the "32 bit" file didn't work that I should flash the computer again with the (older) "16 bit" file. Once I did that the keys programmed up just fine and the customer was on her way.
Transponder keys cost about $30.00 each for most vehicles, however, recently some new keys have been released that are a slightly to a LOT more. If you want to know an approximate retail price for the key for your vehicle please jot down the key blank number for your vehicle and locate that number in the cross reference chart below. VATS keys usually retail for about $20.00.
I have the equipment and key blanks to cut "HIGH SECURITY" (also called "laser" or "sidewinder") keys for Audi, BMW, Infiniti, Lexus, Mercedes, Porsche, Saab, Toyota, Volkswagen, Volvo. These difficult to find (and cut) keys are only $35.00 each for non-transponder keys.
If you have a "HIGH SECURITY" (i.e. "laser cut" or "sidewinder") transponder key I would expect to pay about $50-$80 for each key, assuming its available on an aftermarket basis. .
VATS INFORMATION
General Motors invented and deployed the VATS system into their vehicles in attempt to hinder auto thieves. Vats keys look like this: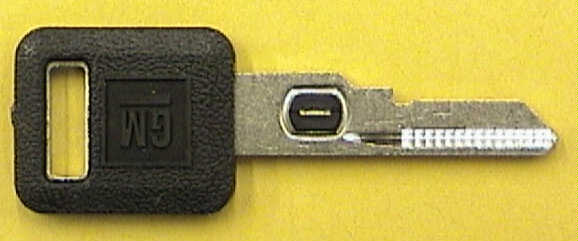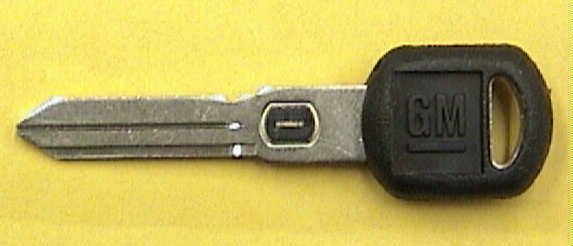 Single sided VATS KEY Double sided VATS key
The black plastic pellet in the blade of the key contains a simple resistor, not a computer chip of any kind. There are 15 resistor values in the VATS system. After the first year or so of deployment G.M.'s use of VATS value #1 was discontinued for technical reasons.
The VATS VALUES, Strattec and Ilco key blank numbers, and 2 letter codes are in the following table:
Vats #
Ohms
Single
Single
Double
Double
2 letter
Strattec
ILCO
Strattec
Ilco
CODES
1
--
0.402k
--
595511
--
B62-P1
--
--
2
--
0.528k
--
595512
--
B62-P2
--
596772
--
B82-P2
CN
YT
3
--
0.681k
--
595513
--
B62-P3
--
596773
--
B82-P3
FW
JB
4
--
0.887k
--
595514
--
B62-P4
--
596774
--
B82-P4
GP
EJ
5
--
1.130k
--
595515
--
B62-P5
--
596775
--
B82-P5
KA
UR
6
--
1.470k
--
595516
--
B62-P6
--
596776
--
B82-P6
N5
Q3
7
--
1.870k
--
595517
--
B62-P7
--
596777
--
B82-P7
UN
KH
8
--
2.370k
--
595518
--
B62-P8
--
596778
--
B82-P8
XB
ZB
9
--
3.010k
--
595519
--
B62-P9
--
596779
--
B82-P9
GA
QM
10
--
3.740k
--
595520
--
B62-P10
--
596780
--
B82-P10
NP
YJ
11
--
4.750k
--
595521
--
B62-P11
--
596781
--
B82-P11
FY
JH
12
--
6.040k
--
595522
--
B62-P12
--
596782
--
B82-P12
C5
ZR
13
--
7.500k
--
595523
--
B62-P13
--
596783
--
B82-P13
XY
KM
14
--
9.530k
--
595524
--
B62-P14
--
596784
--
B82-P14
KB
ET
15
--
11.80k
--
595525
--
B62-P15
--
596785
--
B82-P15
UW
U3
DISCLAIMER / NO WARANTY ON INFORMATION / DONATIONS

I have taken great care to try to ensure that all information presented on these web pages is factually accurate.
My intent is to use this web page in the place of several books as my source of reference. I am making this, my own personal reference source available to the general public as a courtesy and as a learning tool for people interested in the subject matter.
Accessing these pages and using the information presented here is done AT YOUR OWN RISK and I make NO WARRANTIES or GUARANTEES of ACCURACY or COMPLETENESS.
You understand and agree that the information presented on this website is a compilation of information from multiple sources that occasionally conflict one another. You understand that vehicle manufacturers frequently make mid-year changes and that the manufacturers and suppliers of after-market parts and information are frequently not directly provided with any information by vehicle manufacturers.
Your use of this website and any information contained herein constitutes your waiver of any liability or damages of any kind and you agree to indemnify and hold harmless Charles Eastwood, Locksmith Charley, his assignees and successors from any liability or damages which you might sustain from the use of this information.
If you find the information on this page helpful, donations are happily accepted.
You can send United States Postal Service
money orders to:
Locksmith Charley
PO Box 40293.
Mesa AZ 85274

OR, Poke on the pay-pal button!

Pick your own amount! Every little bit helps!
You are encouraged to contact me by telephone at

602-717-5397 preferably from 10AM-Midnight California time. You can also contact me by E-Mail to: Charley@LocksmithCharley.com. Please make sure to include you e-mail address and a telephone number so I can contact you back if there are any questions I need to get answered or to clarify any information.

This page is Copyrighted 2001-2013, by Charles "Locksmith Charley" Eastwood, CRL